Our Services
Serving Clark County
The Town Diesel Mechanic in Las Vegas, NV provides professional diesel mechanic services at our auto repair and our mobile service. Call 702-236-2402 to find out more about our available services:

* Auto and Truck Repair
* Transmission Repairs
* Suspension Repairs
* Brake Service
* Auto Electric Repairs
* Diagnostics
* On Street Truck Repair
* On Street Fleet Maintenance
* Towing Services
* Heavy Towing
* Roadside Assistance
* Fleet Maintenance & Repair
* Heavy Equipment Service
* Medium Duty Diesel Truck Service
* Mobile Truck Repair
* Mobile Mechanic
About Us
Auto Repair Las Vegas NV
Are you looking for a honest, reliable, and affordable diesel mechanic for your truck? Do you need someone who can keep your whole fleet running? We will come to you. Look no further than The Town Diesel Mechanic. Our diesel auto repair are second to none.

We do it all, from bumper to bumper on diesel vehicles. Whether privately owned or fleet vehicles we've got you covered for all your diesel auto repair services from engine to electrics, from transmissions to tires, and much more. The Town Diesel Mechanic also offers a mobile diesel mechanic service to our fleet vehicle owners to ensure your vehicles keep running smoothly. Our auto repair shop uses the latest high tech equipment to run thorough diagnostics.

Call The Town Diesel Mechanic in Las Vegas, NV at 702-236-2402 today to schedule repairs on your diesel vehicle, to book our mobile diesel auto repair service, and to find out more about the repairs we can provide.
Products
* Auto Parts
* Brake Pads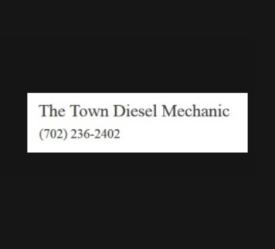 Auto Repair Las Vegas NV
---
https://thetowndieselmechanic.com
Payment Methods
Master Card, VISA, Discover, Cash, American Express, Check